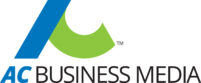 INDUSTRY
Business Services
HEADQUARTERS
Fort Atkinson, WI
Company Overview:
AC Business Media is a business-to-business media and business intelligence company with a portfolio of renowned brands in heavy construction, asphalt, concrete, paving, equipment rental, landscape, manufacturing, logistics and supply chain, and digital and data-driven marketing verticals. It delivers relevant, cutting-edge content to its audiences through industry-leading digital properties, trade shows, videos, magazines, webinars, and newsletters. AC Business Media provides advertisers the analytics, data, and ability to reach and engage with their target audiences.
Investment Status:
Active. Pursuing growth by expanding its audience and capabilities through organic efforts and strategic acquisitions.
Transaction Type:
LBO
Transaction Overview:
Boyne partnered with existing management and enabled the leadership team to become owners for the first time.  The transaction provided liquidity to the sellers who remain minority owners.